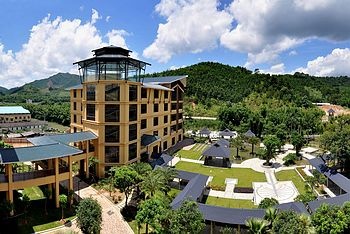 The Dipai Hotspring Resort (Huizhou Dipai Wenquan Dujiajiudian) is located at the foot of a range of hills and surrounded by bamboo forest. The hotel's unique architecture combines traditional Chinese design styles with modern aesthetics and comfort.
Diners eating on-site can enjoy sumptuous local cuisine cooked from fresh local ingredients, an international buffet and Western cuisine in the hotel's two stylish dining outlets, or enjoy coffee, wine and beverages in the appealing lobby lounge and bar.
Fifteen conference rooms and a comprehensive business center give business travelers venues for any events.
Guests of the hotel enjoy all the benefits of the hot spring's curative elements in the pools, which are reputed to be good for general health, as well as from the various spa treatments and massages on offer.